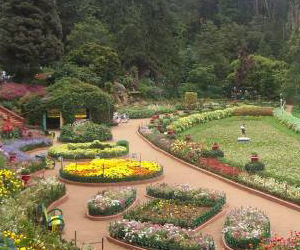 One of the most visited places in Ooty is the Ooty Botanical Gardens. These gardens were established by 1847 by the Marquis of Tweedale who planned its layout and design. It spans over 22 hectares of land area. Scenic and pristine, the Botanical Gardens are covered by different types of trees and vegetation.
The gardens have more than thousand species of native and exotic fauna, which include trees, shrubs, plants, and so on. An interesting aspect is a fossilized tree trunk, situated right in the middle of the garden which is estimated to be 20 million years old. Those interested in studying fauna that is native to this region, should definitely come here as they will find the gardens to be a unique place offering them various insights.
The Ooty Botanical Gardens is the venue for the annual Summer Festivals, which is held in the month of May. Many visitors come here during this time. The main attraction of this festival is the Flower Show.